ne another gendruwo ghost photos collection. this is very scary although i don't know exactly what kind of ghost is it? i also can not determine is that real or not, all the image above is blur, may be if there is a paranormal who can helpme can describe the reality of the ghost. the paranormal also can determine the kinds of the ghost at the image above. thats look like a gendruwo ghost is not it?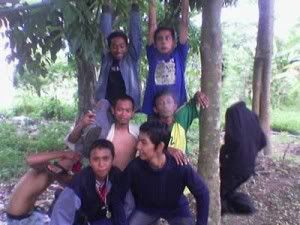 I dont know what is that, is thet the real ghost or just a human, that is one of the appearance of a man with full dark and black head. that look like a stone, but who know the reality? but some think. he image above is one of gendruwo ghost photos collection, the image marked in red in the left of the photo is the gendruwo ghost. may be the size of the image make this photo not so perfect enough

look at the black shadow behind the man, thats seem like a black huge money, thet is the gendruwo ghost which usualy live in a big tree. and he image above shown the gendruwo ghost are standing on the...
Categories Foto Hantu, Hantu Gendruwo, Penampakan